CATEYE VOLT 300 EL-460 FRONT - 300 LMN USB RC
Code:CA460EL460
The Volt is a leading concept in high power rechargeable lighting. Safe, interchangeable batteries allow you to ride whenever you want, wherever you want, for as long as you want.
• High power rechargeable front light with 300 lumen
• Interchangeable cartridge Li-ion battery (simple and easy to change)
• Great side visibility
• Superlight – only 120g
• USB recharge to head unit
• Cartridge rechargeable docking station (sold separately)
• Spare batteries (sold separately)
• Flextight handlebar bracket
• Helmet mount (optional)
• 5 modes: High / Medium / Low / Flash / Hyper Constant
• Runtimes: H: 3hrs / F: 60hrs
£49.99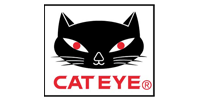 CATEYE – VOLT 300 – TRIATHLON PLUS – JAN 15 – 4 OUT OF 5
TRI PLUS
24/11/2014
This is a bargain for all-round riding. It delivers a powerful centre beam with gradual step down peripheral. There are three powerful flash modes plus flash and hyper constant (11hrs of pulsing light) and side cut-outs from traffic visibility. Run times are long. The secure strap fits most bars.
Read More...
---